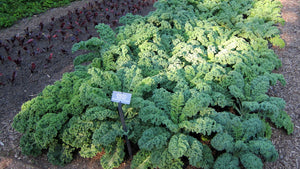 Kale is so attractive it can be grown for its appearance alone. Finely curled blue-green leaves are carried on compact, 1' plants. Great fresh or cooked, either before or after a frost. Plant four plants per square foot.
PLANTING:
Indoors- 4-6 weeks before last frost, 1/2" deep. Keep well watered and fertilized. Transplant out just before last frost. Start at same time as Broccoli, Cabbage, and Cauliflower.
Outdoors- 1/2" deep, 2-4" apart in early spring with soil temperature 55 degrees. Thin seedling to 12-24" apart. Sow another planting in mid/late summer for fall crops.
Harvest- Pick young leaves starting at 8-10" from the middle upward.
Tips- Leaves become very sweet after frost. Use thinning's or sow a heavy seeded row every 10-14 days for baby greens.
Image Source: cultivar413 under CC BY 2.0