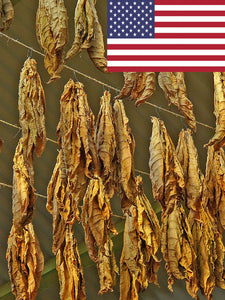 Symbol 4 is an early maturing bright leaf variety imported from the Ukraine. Blooming occurs about 55-60 days after planting. It grows up to 6' in height with an average of 26-28 leaves packed densely on the stem. Symbol 4 is a heavy producer with very good yields and has good disease resistance. The light green oval shaped leaves become yellow at the tips and edges which spreads across the leaf when ripe. The leaves began to ripen before the plant reaches bloom making it an excellent choice for short season areas. 
 Symbol 4 air cures to a bright yellow / gold  color with an excellent burning quality. It has a stronger richer taste than most bright leafs, having a hint of Dutch tobacco flavor and aroma to the smoke. IT's a good choice for cigarette or pipe blends, or even as a cigar filler. 
 Pedigree (Sobolchsky 193 x 8 x Jubilee Virginia Amer.).