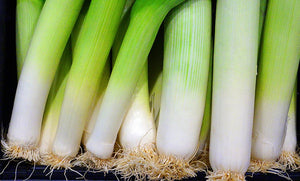 American Flag Leeks, the classic leek choice for home gardeners! If you're looking for a vegetable that has the delicious flavor of both onion and garlic, then American Flag Leek is just what you've been searching for.

Whether you're an experienced gardener or new to the craft, this variety of leek is right up your alley! Perfect for soups and stews or even salads, these overwintering varieties were especially bred to survive cold Northeastern winters. Just make sure you give them plenty of space to grow and some organic compost now and then so they'll reach their full esthetic potential!

If you're looking for the perfect plant to give as a gift, look no further than American Flag Leek! Gardeners everywhere will appreciate its hardiness plus its easy-to-find availability at most nurseries. So why wait? Start making your shopping list today and add American Flag Leek to it - because who knows? Maybe your garden will become famous around town in no time at all.