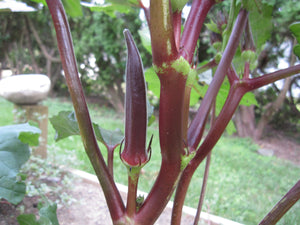 Days to Maturity: 55
Shape: Pentagonal
Size: 6-7"
Color: Bright Red
Plant Height: 3.5'
Beautiful and delicious Burgundy okra is a prolific heirloom variety that works well as an edible ornamental. This is a deep red variety that produces a delicious and tender pod. Ass a crunch and beautiful color to any soup or stew.
Okra is also good for both pickling and canning and has a taste similar to eggplant. Works best in warm weather areas and is often grown in southern climates.
Growing:
Soak the seeds in water for 12-18 hours to soften the shell. Plant after he danger of frost has passed. Sow 2" apart, 1/2" deep when soil is warm. Thin to 12-18" apart. Water 1 inch per week. Reaches maturity in about 2 months. Pods should be about 3" long when harvesting.