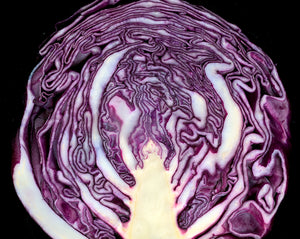 Add vibrant color to your garden and meals with Red Acre cabbage! These crisp, tender heads can reach up to 7 inches in diameter and have excellent resistance to splitting. This variety of cabbage stores well, making it perfect for early harvesting.

Cabbage has been cultivated for thousands of years, dating back to 4,000 BC in China. The Romans also grew it and recognized its healing properties. Cabbages were brought to America by Jacques Cartier in 1536 and became popular in colonial times, with people preserving and pickling them for winter.

To start growing Red Acre cabbage, plant seeds in rich soil indoors 8-12 weeks before the last spring frost. For a summer harvest, plant seedlings outdoors about 4 weeks before the last expected frost, spacing them 12-18 inches apart in rows 3-4 feet apart. For a fall crop, sow seeds directly or transplant seedlings in midsummer. Purple cabbage seeds can be planted with herbs like thyme, sage, peppermint, and rosemary to repel white cabbage moths, but avoid planting them with tomatoes or pole beans.

Protect young plants from frost by covering them and mulching around them. Keep the soil evenly moist to prevent splitting.

Harvest the cabbages when they feel firm and reach a good size. Small Red Acre cabbages will stay tender even when stored for winter.

For seed saving, mulch at least six different cabbage plants in the fall for genetic diversity. In colder climates, dig up the entire plant and store it in moist sand at 40 degrees F over winter. Replant 4-6 weeks before the last spring frost. When the stem grows 4-5 feet tall with yellow flowers, allow the flowers to mature and form seed pods. Pick and dry the pods, then remove the seeds and store them in a dry, cool place for up to five years.