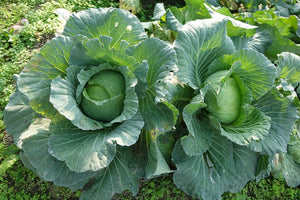 Welcome to Copenhagen Market Early Cabbage Seeds, the ultimate early cabbage variety for your garden! Whether you're a seasoned gardener or just starting out, this heirloom variety of cabbage is here to stay!

This original Copenhagen Market Early Cabbage was developed by Hjalmar Hartman & Company of Copenhagen, Denmark in 1909 and made its way to America in 1911 with a debut from W. Atlee Burpee & Company of Philadelphia. Now it's available to gardeners like you and me—and we get to experience generations of flavor and quality first hand!

With this early cabbage variety, you can enjoy full-size heads of delicious cabbages that are chockfull of flavor without any splitting or cracking. In addition, this mid-season variety matures in about 65 days and offers consistent growth throughout the summer months for optimal enjoyment. Your neighbors won't be able to take their eyes (or noses) off your amazing batches of cabbage that taste as though they were harvested right from an old-fashioned farm. Thanks to the power of Copenhagen Market Early Cabbage Seeds, now it truly feels like time has stood still!