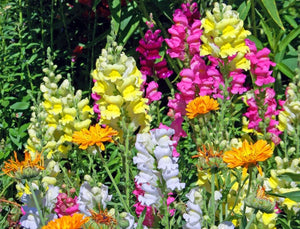 Let your garden come alive with the majestic beauty of Fairy Bouquet Snapdragon Seed Mix! Make every outdoor space feel like a fairytale escape with these dainty and jewel-like annual flowers. This enchanting variety is perfect for adding bright color to borders or containers – making it an ideal choice for gardeners of any skill level.

Originally from Morocco, these vivid blooms have become a worldwide favorite ever since they won the esteemed AAS Award in 1934. The scientific name Linaria literally translates to "flax-like" due to the similarities in growth structures between this flower and flax. These brightly colored flowers also go by nicknames such as Toadflax and Baby Snapdragon – gaining another level of whimsy relating back to their fairytale-style qualities.

Start planting today and get ready for months of one-of-a kind beauty in your garden. With Fairy Bouquet Snapdragon Seed Mix, create an unforgettable outdoor oasis for friends, family, and wildlife alike - no matter what size your space may be!