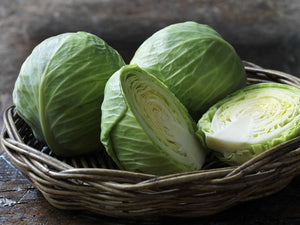 Give your garden a taste of history with Early Round Dutch Cabbage Seeds! You'll love harvesting four to five pound heads of this tasty vegetable in just 70 days—it's so quick and easy! Early Round Dutch cabbage is slow to bolt, meaning it stays tender and full of flavor for weeks. Plus, it has great wrapper leaves that really help hold the head together.

Funny story: in the 4th century BC, Chinese physicians even believed that cabbage had healing powers—so much that they wrote entire books about it! Later on, Roman aristocrats thought so too and served cabbage dishes at VIP gatherings. Jacques Cartier brought the first seeds across the Atlantic from France to North America in 1536. People in colonial America were bonkers about it, coming up with creative ways to keep their cabbages fresh during the winter months.

Now you can join in on all the fun! Gather your supplies, pick out your favorite spot in the garden, and get your hands dirty (in a good way!) with these Early Round Dutch Cabbage Seeds. Plant them today and enjoy a harvast that will be truly fit for history!